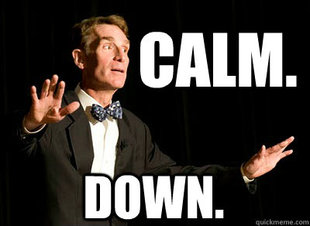 Listen to Bill. Bill is wise.
In case you missed it, we're skyping with author Sarah J. Maas tonight! She's the author of
Throne of Glass,
which was our book club pick back in December, and its sequel,
Crown of Midnight,
out August 27, 2013!
And I know - December
is
kinda a long time ago, especially with school and homework and everything you've read since FIVE MONTHS AGO OKAY CHILL.
F'reals - your
Throne of Glass
review starts here! I know you want to look cool and totally in-the-know when we talk to her - duh, me too - so get reviewing by way of one of the your fav ways to waste time (hey, not judging) on the interwebs - a
QUIZ
!!! Check out any of these three quizzes, then post your score in the comments section:
Need to review
a bit before you take these schwaiz quizzes? Here are some sites that'll have you up-to-speed in no time:
Easy-peesy lemon-squeezey-mac-'n-cheesy-don't-be-queasy! See you at the meeting! Have your questions ready - see the
previous post
for some suggestions on this - and don't forget to be at SPL
tonight, Thursday, April 4th at 6pm!!!